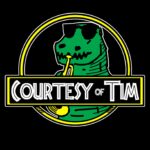 May 15
2021
THFL Presents Courtesy Of Tim Live at The Spaceship
With Spring shifting quickly into Summer, the humans are ready to spring into the summer festival season. But things will still be shaky for a little bit while the humans regain their trust of large gatherings. This is the perfect opportuning to regain some musical energy while still staying safe until it is once again time for such events.
Good thing we have the raucous and righteously awesome ska band Courtesy Of Tim to help turn your living room into the skank pit of your dreams! So grab your housemates and ska your brains out together for this super kick ass live stream!! You feet and legs may be tired after but your heart and brain will certainly thank you for the much needed exercise.
This will be a ticketed event. $4 per stream!!
Please remember to tip your art tenders,
paypal.me/thespaceshiptv your support helps to keep us going and provide the best that Madison and the surround area can offer!
For more information on Courtesy Of Tim, check out these links:
https://courtesyoftim.bandcamp.com/
https://open.spotify.com/artist/22MEoYFNf4VfV8lsZvQD6n
https://www.facebook.com/courtesyoftim/
https://www.instagram.com/courtesyoftim/?hl=en
https://twitter.com/courtesyoftim?lang=en
https://songwhip.com/courtesy-of-tim
https://isthmus.com/events/courtesy-of-tim-video-shoot/
WATCH FREE ⇨