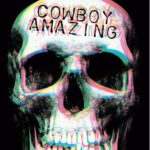 Jun 26
2021
Please sign up to catch our latest live shows!
...start transmission
Last few weeks of Spring and it has been quite the amazing ride for both the Humans and the Spaceship. Lots of amazing energy draining events happening everywhere you turn. Don't forget to replenish your musical energy reserves and not let them get too low. It is very important to keeping a healthy amazing mind as well as an amazing body.
This next band will certainly refill your spirit to rock, please welcome to the show, the amazing, Cowboy Amazing!! You know they will be amazing because it is in their name and they tell it like it is!! None of that fake amazing crap other humans will try to pawn off on you. This is the real deal right here!! So dive right in and enjoy this amazing tasty musical treat!!
This amazing event will be ticketed, for only an amazingly low $4 per stream, so gather some close friends or family and share an amazing stream!!
Please remember to tip your amazing art tenders,
paypal.me/thespaceshiptv your amazing support helps to keep us going and provide the best that Madison and the surround area can offer!
For more information on the amazing Cowboy Amazing, check out these amazing links:
cowboyamazing.bandcamp.com/
facebook.com/cowboyamazing/
tonemadison.com/articles/when-a-metal-jazz-metal-lineup-makes-perfect-sense
end transmission...
THFL Presents Cowboy Amazing Live at The Spaceship