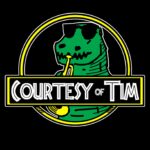 Apr 16
2022
Please sign up to catch our latest live shows!
...start transmission
As the Spaceship approaches almost two of your Earth years since discovering your planet, we are reminded of the first Earth year anniversary of our arrival, where we witnessed the whirling might of the endlessly energetic band Courtesy of Tim.
These sneaky songsters of ska, have seemingly tricked us into having them back on our spaceship for a repeat round of raucous and rambunctious recitals. Will the Spaceship withstand this round of Ska-Punk energy? You bet we will!! And we will love every moment of it!! There is no doubt in our minds that you dear human, will also love every moment of this amazing reappearance of one of Madison's premiere Ska bands!! To open the night we will be joined by musings of Wildly Inconsistent.
Head on over to thespaceship.tv/ and support the local live music scene for only $5. Share it with your friends and watch it as many times as you like. We appreciate all the love and support this great city has to offer.
If you like what you experience, please remember to tip your art tenders at paypal.me/TheSpaceshiptv It takes a lot of work from a passionate crew of humans and aliens alike to make this all possible. We humbly thank you for your generosity.
For more information about Courtesy of Tim, please peruse the pages linked below:
music.apple.com/us/artist/courtesy-of-tim/1403973368
open.spotify.com/artist/22MEoYFNf4VfV8lsZvQD6n
beardedgentlemenmusic.com/2021/03/20/courtesy-of-tim-wisconsin-ska-punk-interview/
instagram.com/courtesyoftim/?hl=en
end transmission...
THFL Presents Courtesy of Tim & Wildly Inconsistent, Live At The Spaceship