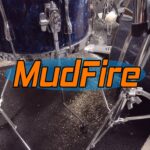 Jun 25
2022
Please sign up to catch our latest live shows!
...start transmission
An invisible force seems to hold a sinister grip upon the planet. Between the threats of war, corruption, pestilence, and famine, the energy needed to prevail is constantly challenged by the onslaught of oppression and darkened ideals.
All the musical energies of the past have held fast and have long spread hope that has spanned many a generation. But the evils loom ever more powerfully as of late. New forces must emerge to help join the battle and spark fierce new energies to the flames.
The Spaceship would like to welcome to the scene just such a fierce spark to help usher in a new age of musical energies to boost your juices. Here to mesmerize you is the mighty music of Mudfire!! Fronted By Madison Veteran Justin Roettger (Axiom), this fresh two piece band will make sure to deliver a fresh sound to help revitalize your musical essence and fight back those dark thoughts.
So come join us in welcoming Mudfire to the stage as we celebrate their commitment to blasting killer music into the universe. Tickets are only $5 at TheSpaceship.tv your support goes to support these amazing musicians bring you live music straight to your media devices.
Tipping your art tenders is always a plus, we do appreciate your support as well if you like what we do.
paypal.me/TheSpaceshiptv it really means the universe to us.
For more information on MudFire please visit the following links:
end transmission...
THFL Presents MudFire, Live At The Spaceship