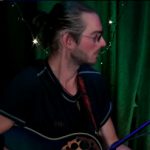 Jul 11
2020
Please sign up to catch our latest live shows!
...start transmission
Hailing from Chicago, artists Marwan Kamel and Micah Bezold are two very talented musicians with a wide range of influences. Please tune in to see this one of kind set.
Don't forget to tip your art tenders
paypal.me/mrwnkml
venmo.com/Marwan-Kamel
end transmission...
City Of Djinn