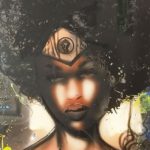 Jun 20
2020
Please sign up to catch our latest live shows!
...start transmission
Please come and join us this evening for a very special live event.
Hosted by comedian Antoine McNeil & Dexter "Tefman" Patterson, The Shapeship.tv would like to present, Jam For Peace 2020.
This event will showcase many different artists and musicians, from all over Madison, displaying their talents to a live streamed audience.
Featuring Performances by,
– Taye Sharkie
– Lature Carter
– DJ Martinez White
– Tas Raww
– 608 Trace
– Opal Ellyse
– Red The Bully
– Iri Music
– P. Swagger
– Rob DZ
– Mr. Grass
– Jemini
– Rambunxious
– Big Daddy Earl
– Art Brothas
– Vilas Park Sniper
– And More!!
This event is working to help raise money for The Urban Triage organization to meet it's target funding goal.
If you enjoyed tonight's event, please consider donating by clicking this link
gofundme.com/f/UrbanTriageForThePeopleByThePeople
For more information about Urban Triage, visit urbantriage.org/
end transmission...
Jam For Peace